Fashion Presentation with Heidi Lee in Times Square
On September 8th, 2014, fashion-week once again rolled into New York. As part of a week-long series of art exhibitions in Times Square called "Art-a-porter", Heidi Lee and I presented some new work in a very unique way.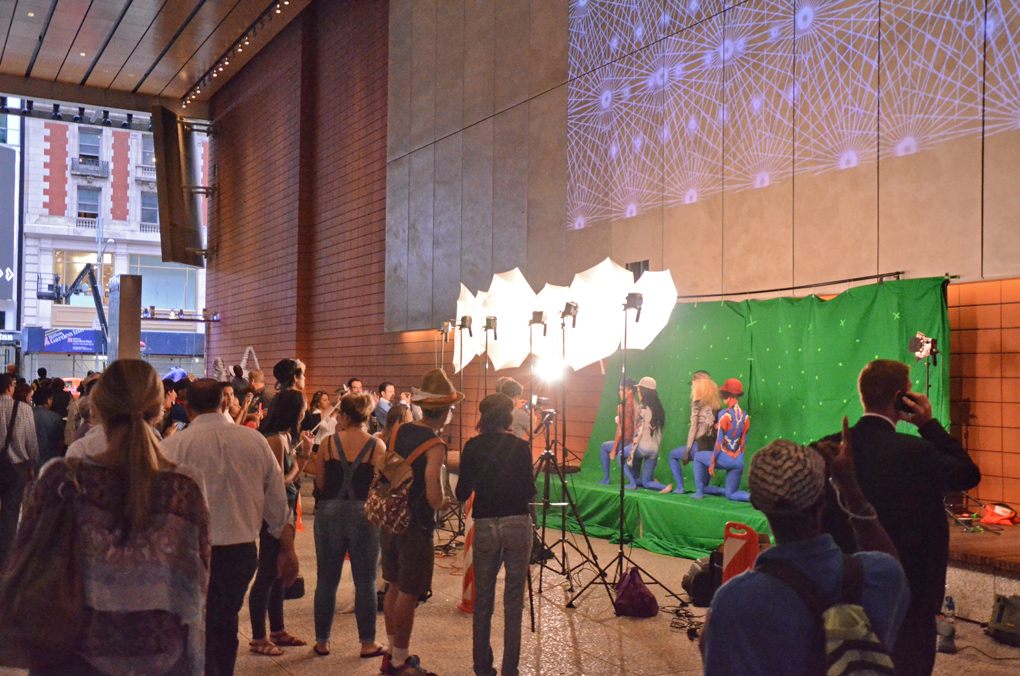 Months earlier, after running through a few concepts and gathering a team, the project evolved into a unique hybrid presentation that was both runway show and video shoot. By that I don't just mean recording the proceedings, but actually a full FX shoot with 3D tracking and green screen background. The idea was to capture the models performance and digitally re-create a new environment around them (in our concept, an other-worldly temple), then present the results as a commercial for the pieces. We had Andrew Strasser as our director of photography doing some nice steady-cam shots, and myself doing some auxiliary tripod shots, as well as two photographers documenting with still shots.
In addition to providing some 3D printed parts for the teams outfits, I also did the production management, making sure we had all our ducks in a row with logistics and other resources, since this was a very public show and we had specific requirements for the shots to be usable for 3D compositing later. We worked with body painter Dani Fonseca of The Body of Art to create "outfits" made of paint and 3D printed parts. These were all in line with a color scheme reflected in the hats. It took Dani and her team the entire day to paint the lovely models we had selected for the project, and so they made the trip in full paint across town from the studio. I was not able to get scans of the models beforehand. Relying on measurements and photographs, the parts were sculpted to fit and flatter. The parts were attached with adhesive and painted over to integrate them into the overall look.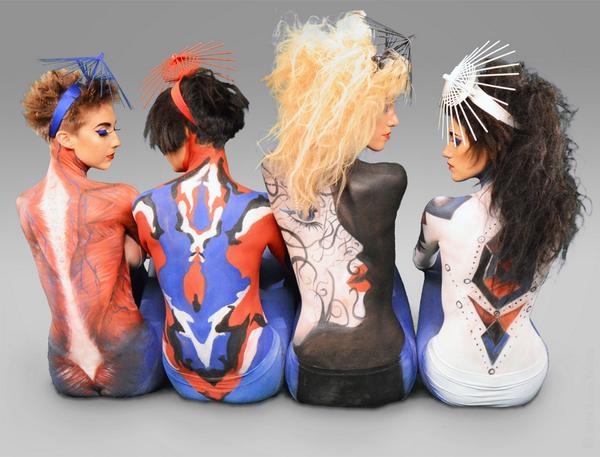 The footage looks great! The final production is set to release in February 2015, around the next fashion week, to promote Heidi's new designs. Here is a little more from behind the scenes:
http://youtu.be/Gxmlx4IzEog
This project was definitely a stretch to pull off, but the results are worth the effort. When so many challenges are overcome in a project, it only makes it more satisfying in reflection. This was also one of the most fun, free-wheeling creative projects I've worked on in awhile. We were fortunate to have such an understanding and flexible host in Susanne Bartsch, the producer of Art-a-porter. The plan changed numerous times as the work progressed, and this one of those precious few spheres of life where the evolution of ideas is accepted as an inherent part of the process.