ThreeForm Online Platforms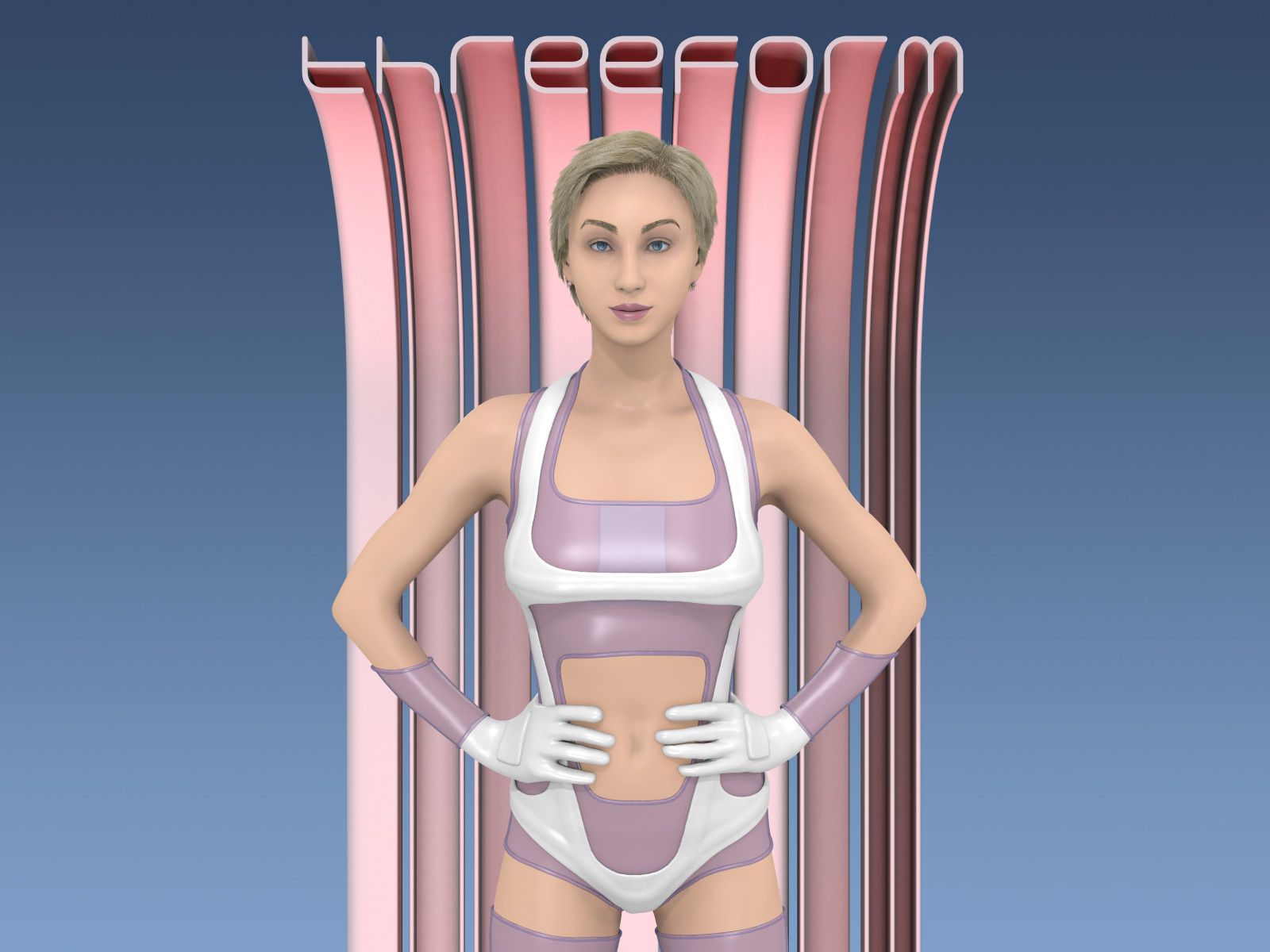 ThreeForm is creating design on the body: wearable tech, printable body scans, and fashion accessories, available on several platforms.
Since the start of ThreeForm in 2011, various 3D design platforms have emerged and evolved, each with their own focus and audience. I've tried all of them, and they each have their own strengths and weaknesses. I am reviewing them here as a portal for anyone seeking to check out my work or interested in hosting their own work in the online 3D ecosystem.
Based in Lithuania, CG Trader has matured from one centered on content for games and animation (Like TurboSquid) to a more diverse offering with a huge amount of 3D printable content. This is perfect for me because most of my designs are not just STL, but are also designed for rendering. The 3D scanned figurines I offer, for example, may contain vertex colors or UV mapped textures. While most current printers don't support those features, it makes the content "future proof" and allows me to deliver added value. Since it is a paid platform, it is important to provide as many convenient options as possible.
Cults 3D is a French company which is all about 3D printable content. It is very straightforward STL purchase site which is easy to navigate and host content. The categorization leaves something to be desired, as any human shapes which are not obviously covered gets placed in a cheeky "naughty" category along with a bunch of low-brow content. Aside from that flaw, this is one of the most convenient hosts so far.
The biggest model sharing community on the net! Thingiverse exploded in popularity along with Makerbot, and is heavily populated with the "nerdier" content like cliche sci-fi characters and practical parts like brackets or electronics cases. There is a lot of sculpture for people who just need something to print, to justify their 3D printing hobby. To meet this need, I share electronic cases for common hobby boards (Raspi and Arduino) as well as lower-res versions of some of my figurines. The high res models, available for purchase on other sites, are linked to from there. Thingiverse provides great visibility (all my models get thousands of downloads), but the audience skews young, or at least immature, so expect fairly juvenile comments and behavior from this community.
Shapeways is by the best portal for inexpensive access to professional quality prints. For shop owners, it requires constant maintenance. The employee turnover is very high at Shapeways because, more than ten years after their founding, they are still in "startup mode" and their funding source demands constant change. The result is that the interface, pricing model, and everything else gets jumbled around every six months or so, requiring an enormous amount of effort from shop owners to maintain their content. Inexperienced users may upload dozens of models only to find out they must spend several hours revising their pricing, links, embedded content etc, every few months. The interface, names of materials, logos, and everything else about the site is in constant flux.  In 2013, they were very close to offering a product that works for ThreeForm, where a customer could upload a scan or at least measurements to customize a product. Unfortunately they removed those options and chose to invest in writing software to automate the most basic aspects of 3D design, like editing text on a model, which was already easy to do. The result was a huge flood of basic models and no options for anyone wanting to offer something more advanced in a product offering.  After a pricing model change caused my costs to arbitrarily increase by more than 1000% and the fashion category was removed from the site, I had to give up on using Shapeways as a shop, though I still use them as a source for metal and nylon parts.
ULTRA is a sub-brand of ThreeForm focused on wearable tech and electronics cases. This is offering is more tuned to the limitations of Shapeways in that the designs are made to be produced using a specific material, and their are only a select few products in a narrow range of categories. In particular, this brand was created to offer variations of the OpenBCI Ultracortex EEG headset frame. These are available in different shapes for added comfort and durability.
This company is a part of  iMakr, a set of brick-and-mortar 3D printing stores in New York and London. IMakr  distinguishes itself in that all models are pre-tested STL files only. The lack of a paid model has made this particularly unnactractive for content creators, though they are trying to change that. The store system they propose is a monthly payment from the shop owner in addition to a large segment of sales, which so far sounds like a non-functional business model for more than a handful of people. I will be patient and see how it develops before adding much content there.
I briefly tried this platform, only to realize the structure of it needs a serious overhaul for the type of content I offer. The problem is that a new subscriber has immediate access to all previous content before they have made any contribution. Patreon users exploit this flaw by temporarily committing to a large payment to unlock access, scraping all the content, then immediately canceling.  In the case of 3D models the STL's are leaked to file sharing sites. In the more common case of photography pages, there are forums where people share massive collections of Patreon content for free. While Patreon has a pay-per-item model, it isn't a shop interface so it doesn't work that way either. Added to that, there have been complaints about Patreon policies being unnecessarily harsh to content creators so they have a long way to go.
Overall, CG Trader and Cults3D are my favorite platforms for paid content, and I will certainly continue to invest time in developing my shops there. My most frequently updated media site is Twitter, so keep up-to-date with my activities by following @ThreeForm.
I did spend a decent amount of time creating a Patreon profile with a succinct presentation of what ThreeForm does, and some options for monthly pricing tiers. In the right context this structure could have potential. For now I'll just leave this write-up here.
What is ThreeForm?
I describe ThreeForm as the physical interface between the body and technology. Creations that interact with the body should respect the body, and the approach used by ThreeForm makes this possible. As a long term initiative it pursues esoteric technical goals described below, but as my guest here on Patreon, you'd probably rather know in what form these ideas are manifested in a way that you can download, print and enjoy right now. ThreeForm creates:

 – 3D printable Figurines and Characters. These sculptures are based on real people. They are professionally optimized and designed for 3D printing at home. I do "3D Photoshoots" with a variety of performers, dancers, and models to create a library of poses. These are carefully sculpted to perfection and tested to ensure they print beautifully. Some are further developed to include custom outfits and accessories that are used in real life fashion shows and performances, and many of those will be shared here for you to print in miniature. Your contributions are shared with the models, so continued support ensures my team and I can create many more unique poses and outfits.


 – Wearable Technology. These models take the form of cases, accessories and designer packaging for popular devices and computing platforms like Arduino, Raspberry Pi, Adafruit products, and OpenBCI.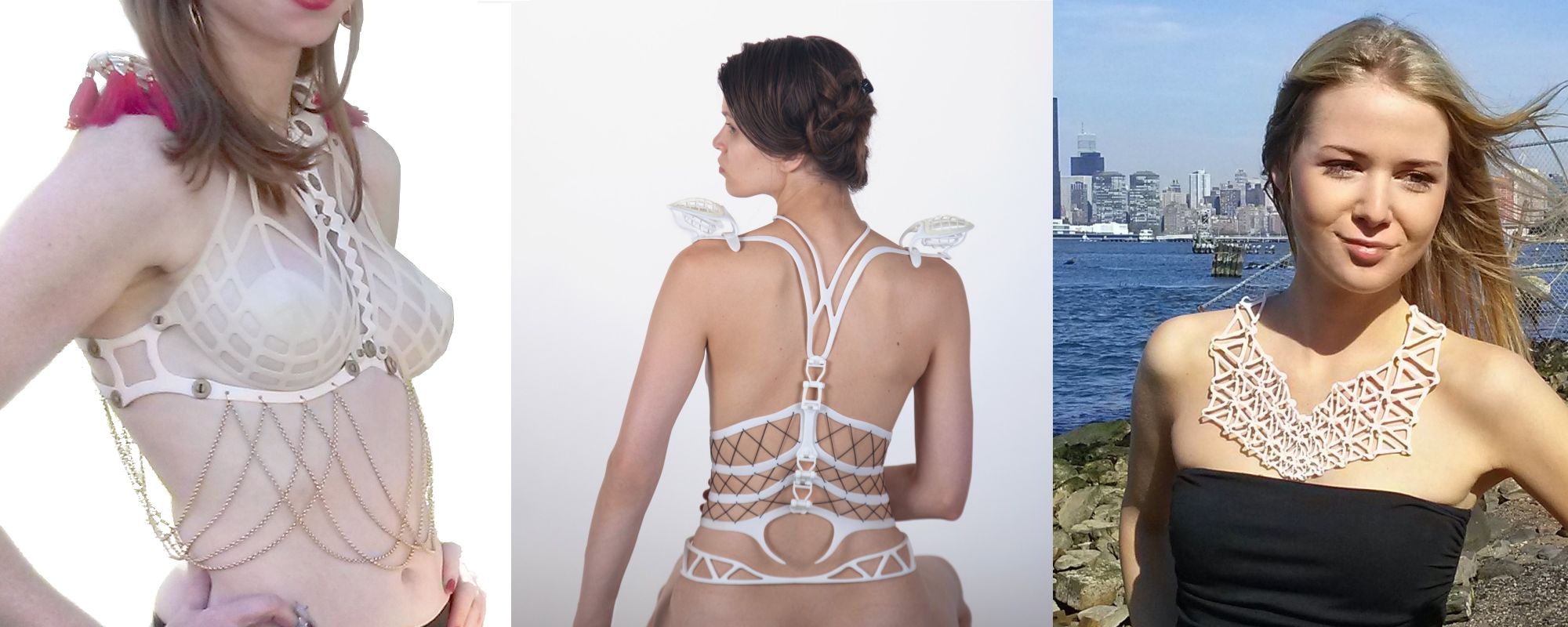 – Fashion Accessories. Smoothly transitioning from wearable technology, the design are morphing into fashion accessories. 3D printing enables universal customization, so our technology no longer needs to take the same form. It can be stylized to our liking. Expect to find customization templates that  may be entirely about style, or contain a functional element from the wearable tech category.



The mission of ThreeForm is to explore design on the body leveraging two synergistic technologies: 3D scanning and 3D printing. I conceptualize these as a portal between the digital world and the physical world. In the context of the body, this enables design to respect the body by conforming perfectly to our shape and movement. ThreeForm seeks to develop this approach by solving mechanical and material challenges in the 3D printing technology, by refining design techniques and developing software solutions to optimize workflows to make the combination of these technologies practical and useful by reducing time, labor and cost, while increasing functional capabilities.
In addition to experimental styles and gadgetry (which is the fun part) I also develop research tools and assistive devices such as the Ultracortex platform developed in collaboration with OpenBCI. Current laws limit the extent to which 3D printing can be applied in a medical context, and devices take a lot of time and money to gain approval, so while legislation will take several years to catch up, I am not waiting around. For five years I've been developing solutions to make these technologies more applicable to improving people lives, and these will all transition from research and experimentation to daily life as soon as possible.
While technology and society will continue to evolve and adapt to new technologies, a lot is possible right now, and I would like to share the excitement of exploring that with you. Your support is greatly appreciated.
Reward Tiers Offered on Patreon:
The figurines at this tier feature basic editing to ensure printability, and enough detail to print around 6″ high at the resolution of a typical home printer.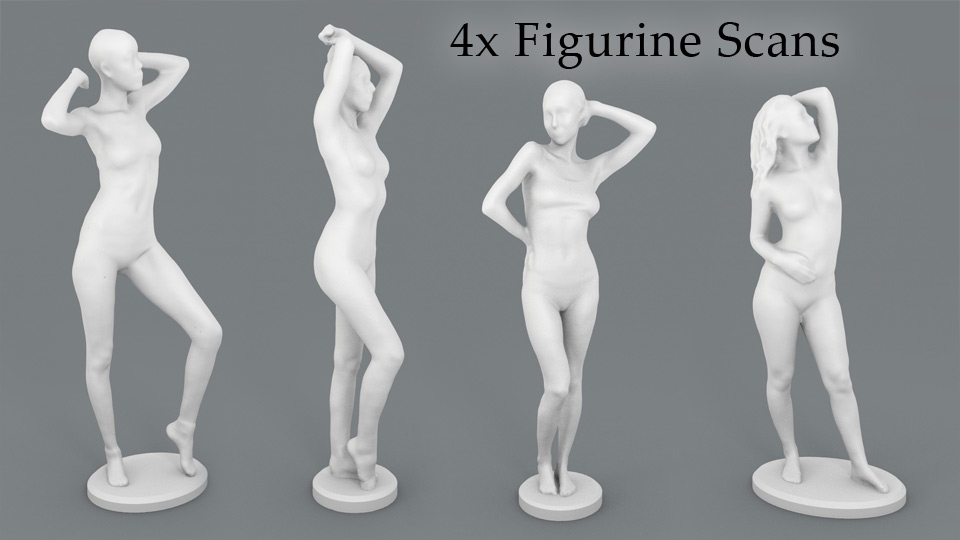 These scans are optimized to fill print around 8-9″ tall. Manual support structures are often added for easier, more reliable, higher quality prints. Wearable tech packages are more complete with a variety of options included.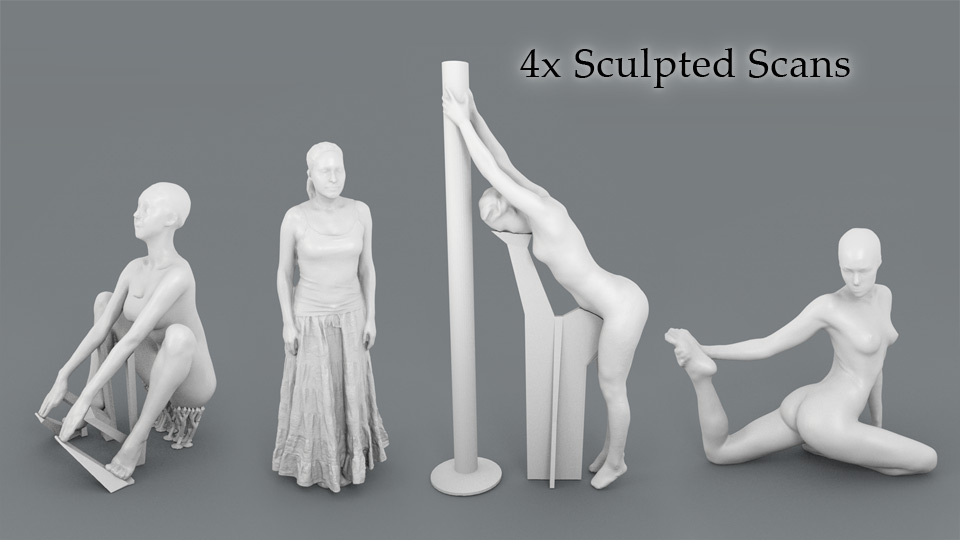 Digital Avatar package – fully developed avatars/characters with complete outfits. Professional quality. These are delivered in package with a variety of 3D formats, part configurations, and polygon counts. These include versions that take advantage of multi-material, dual extrusion, or full color printers.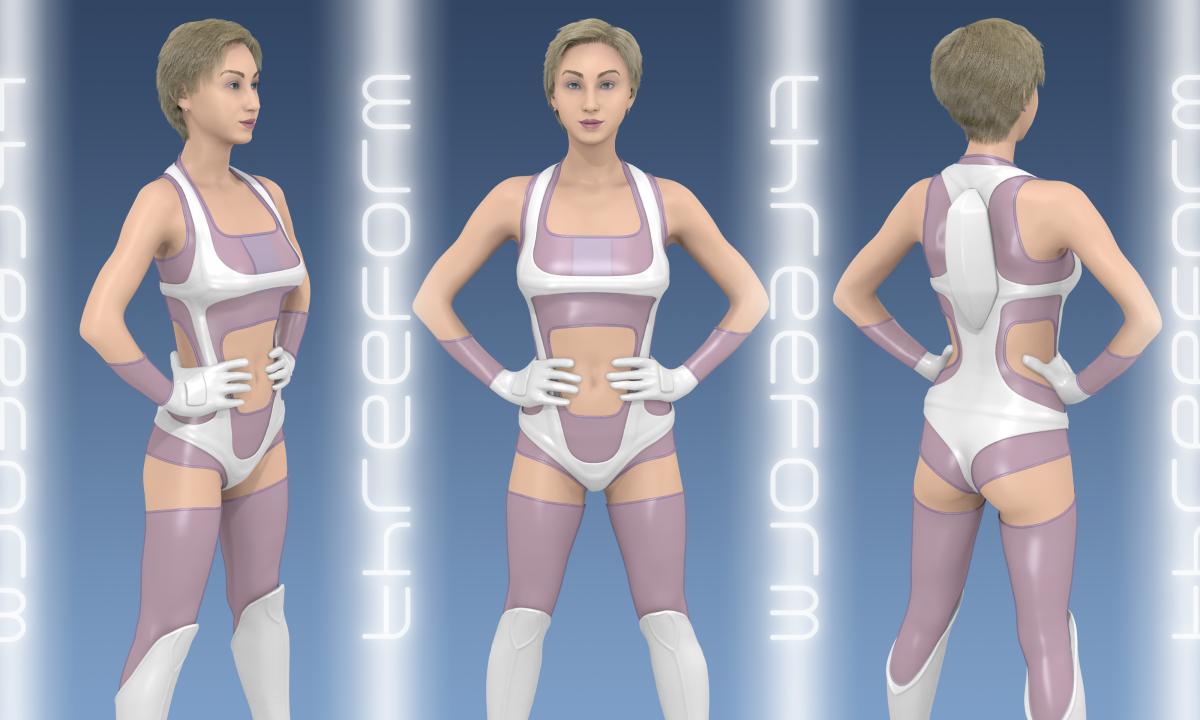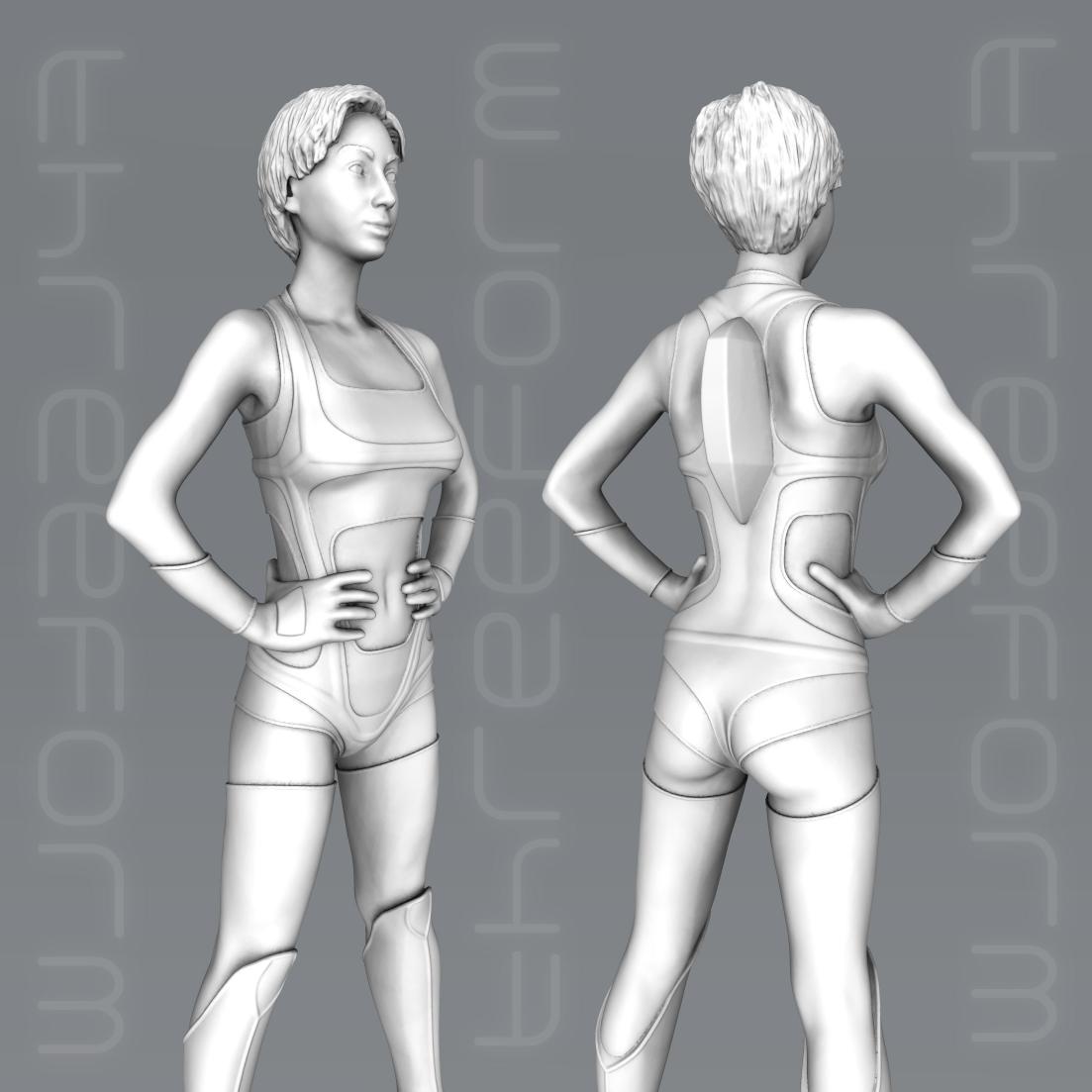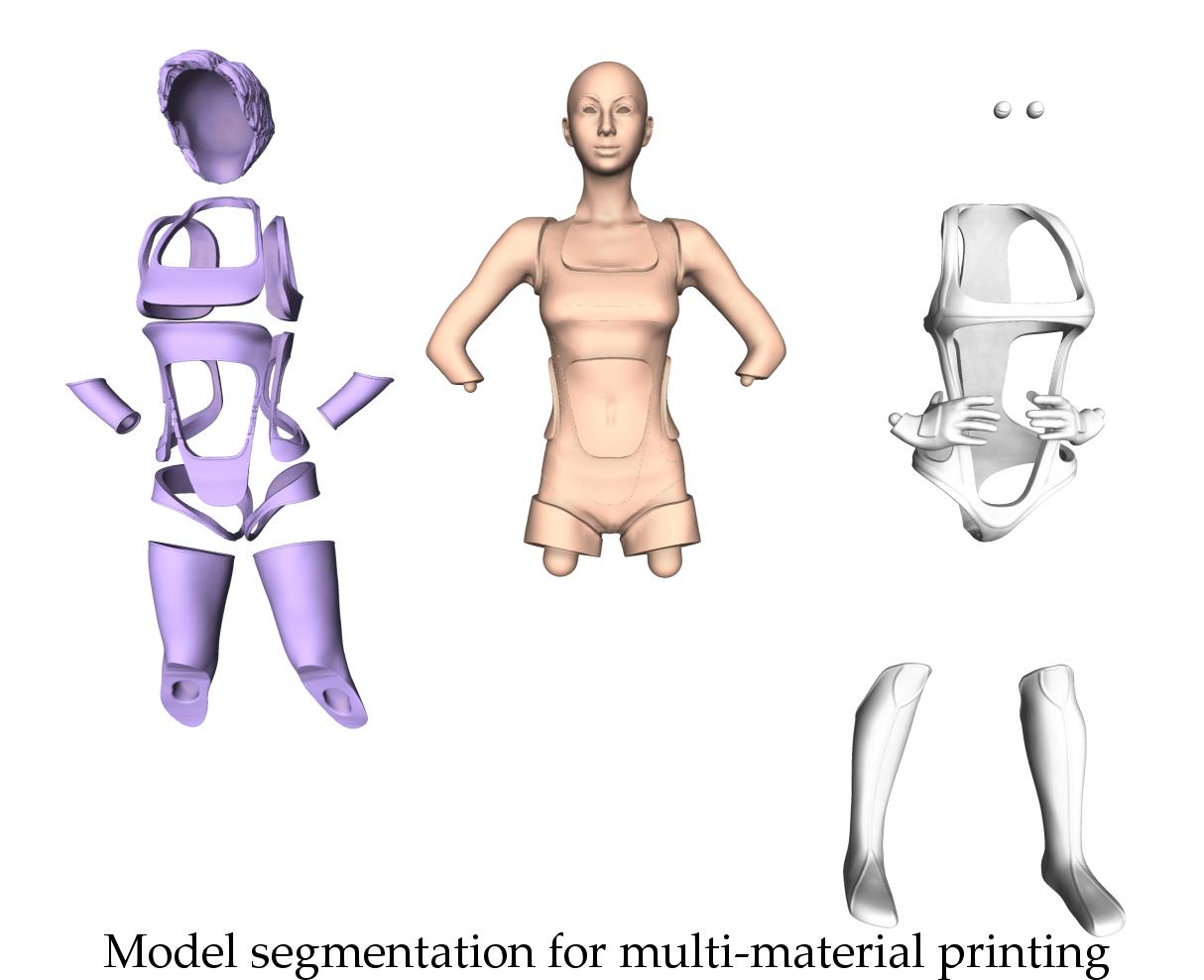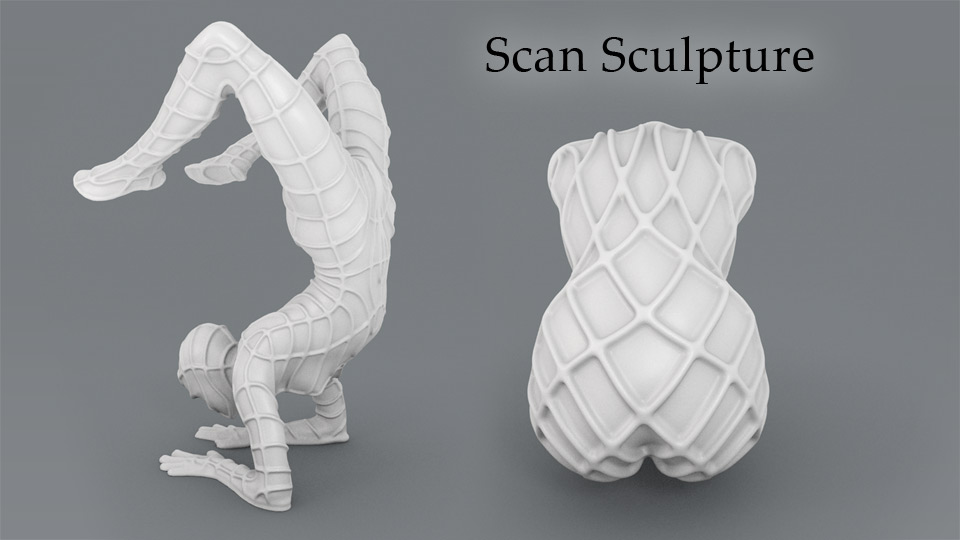 More about the scans and process:



The scans used in this work were made in association with various other artists and models. The scans capture their natural shape and pose with limited detail depending on which scanning method is used. When I started ThreeForm I used a method called photogrammetry which is based on photographs.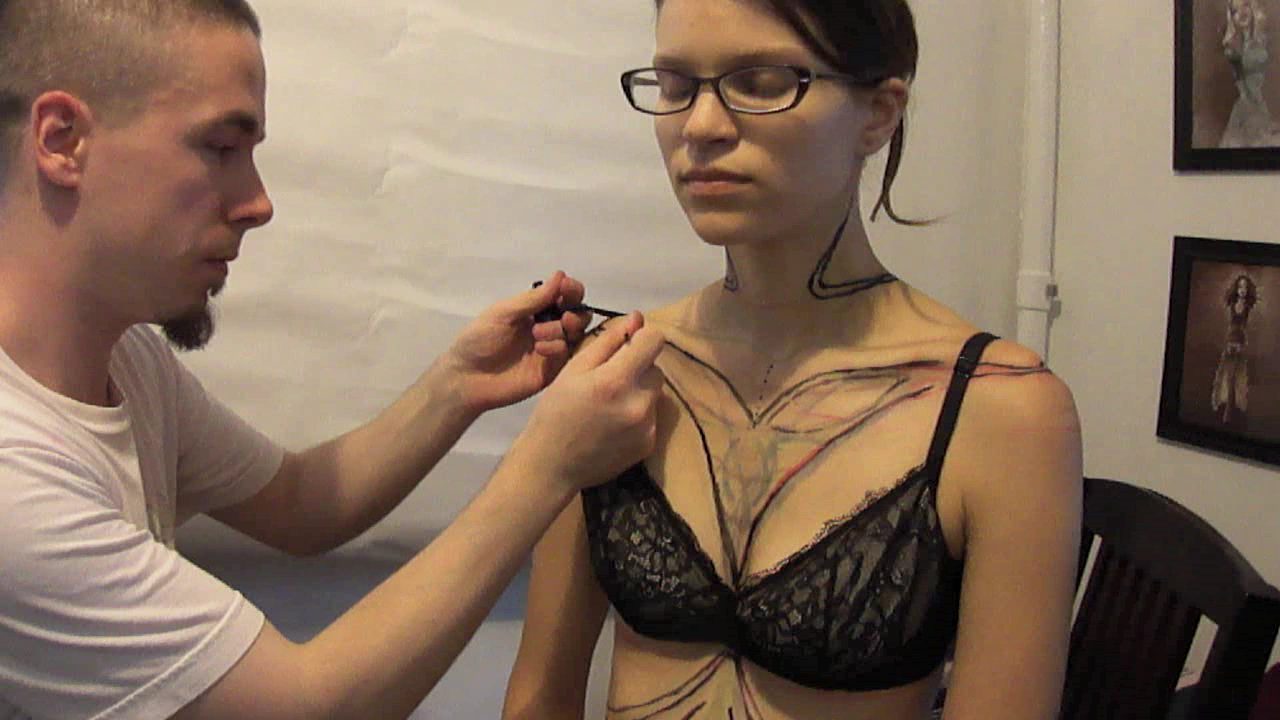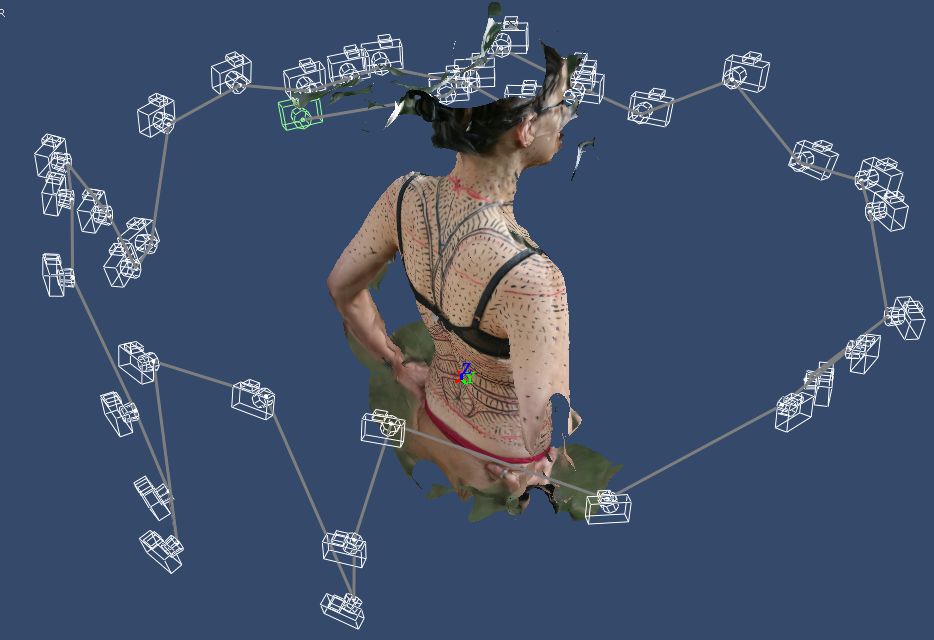 I still occasionally use this for clients who do not have access to a scanner, but it is fairly crude and requires a lot of cleanup. I now use laser or structured light based systems.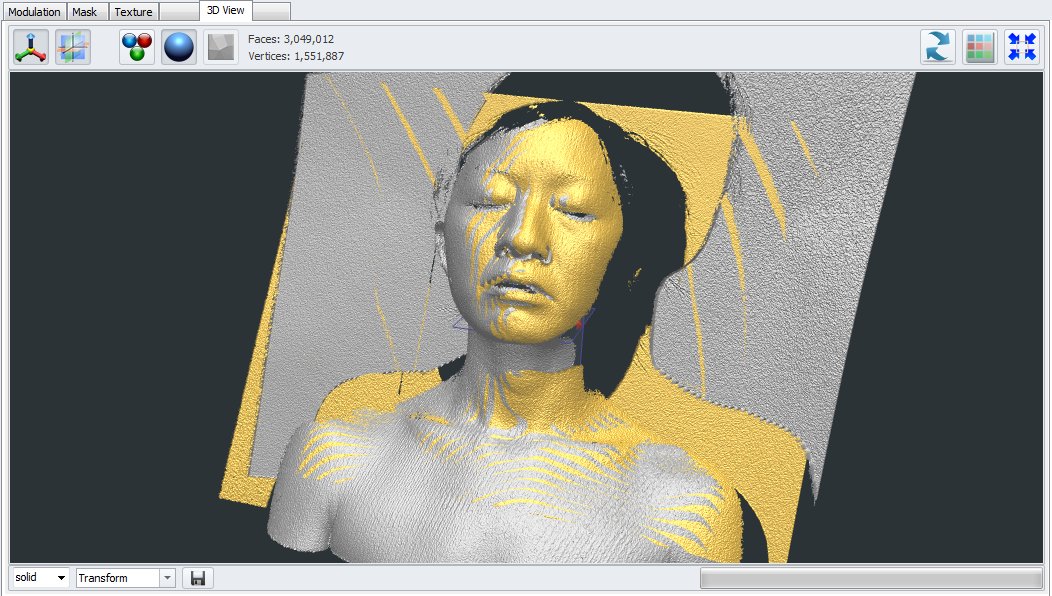 There is a multi-stage process of cleaning up the data (removing noise and errors) and  reconstructing the scan to fill in missing areas. At this stage the model is printable, but for select poses I do additional sculpting work to add in missing details like fingers and toes. I also smooth out the seams of any garments to restore their natural shape. The models are not nude during scanning, but wear minimal undergarments to ensure accurate measurements and shape of custom outfits. At this stage each scan has taken 5-15 hours of work. For exceptional poses that will be used to build an avatar, full replacement of the head is required to add realistic eyes, hair, etc. Many outfits have several layers made of hundreds of spline curves and surfaces, composed of several thousand individual control points.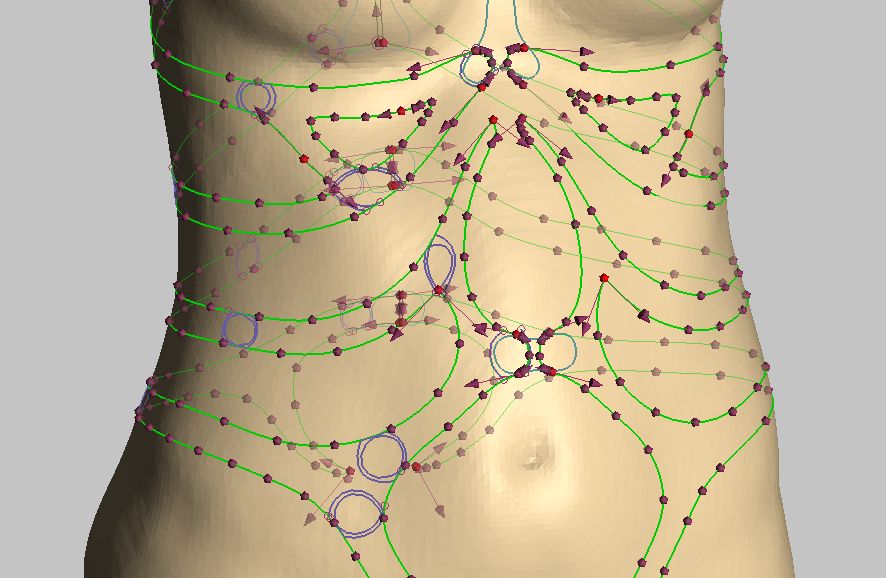 By the time final meshes are exported, a full outfit could take around 100 hours. The separate meshes are imported into rendering software to create realistic lighting and materials, which may take several dozen more hours, and may take several days to process the renderings in the case of an animation. Bringing the designs into reality with 3D printing is an even more elaborate process. There are many different printing processes, materials with varying properties, a variety of post-processing techniques to change those properties, and many solutions available for mechanical enhancement such as coatings, textiles and straps.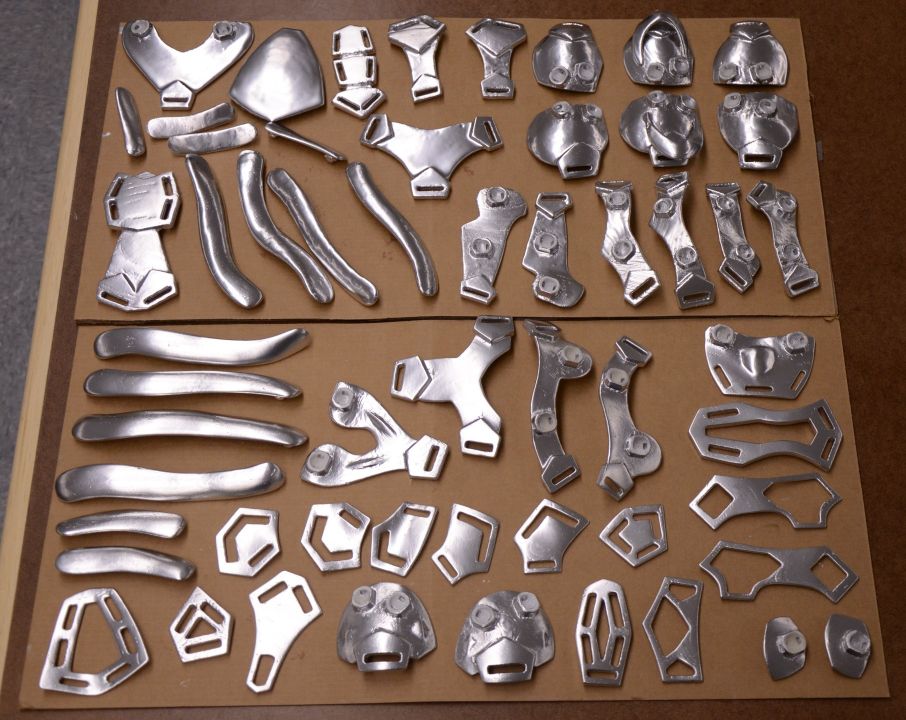 Assembly can include adhesives, fasteners, sewing, or heat bonding. I do want to  to better document this if there is interest. If you have any questions or requests, please ask.